N
Personalized design profiling
Read More
Your own office means you rent your own office space. You have access to the Office around the clock, year round. The rental includes staffed reception, exchange service, voicemail service, free meeting and conference rooms, possibility to book meetings at our other facilities, Internet via cable and WiFi, cleaning, telephone subscriptions, connection to printers with secure printing, copiers and scanners, courier and mail handling , coffee in different varieties, tea, fruit, entry system and alarms, part in common areas and signage etc. In addition, you and your customers get to take part in events such as varnish and events. We also offer shared breakfasts, after work and parties.
N
Possibility to book meeting and conference rooms
N
Ability to network at our events, events and parties
Read More
Do you want a representative business address and mail management help? Then the virtual office is perfect for you. You also have the opportunity to book meeting and conference rooms. In addition, you and your customers get to take part in events such as varnishes and events.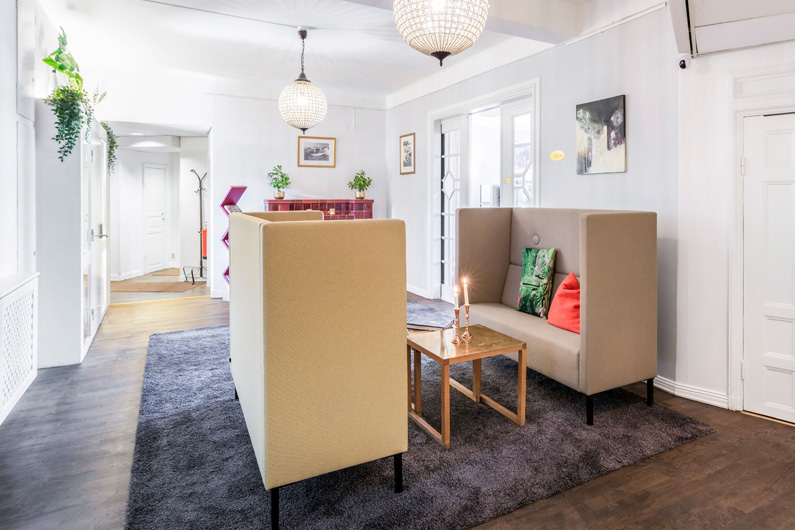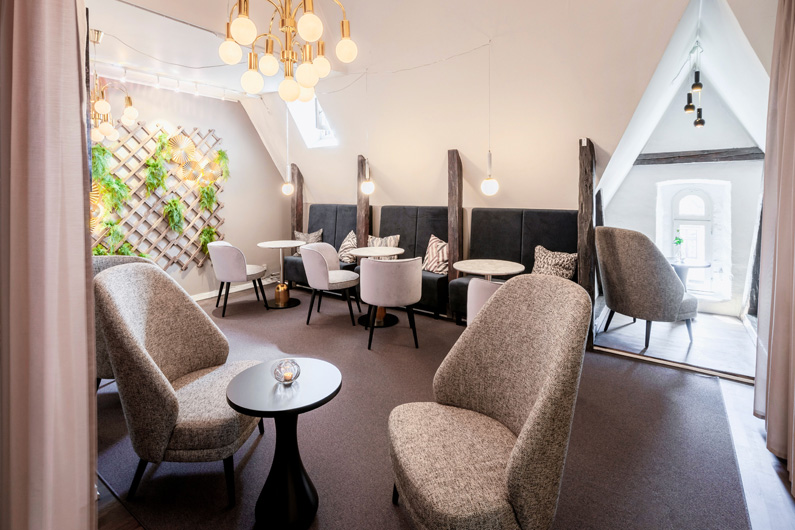 Read More
Sometimes you need time to relax. Maybe with a colleague, an office neighbor or just with a cup of coffee as a company. Our lounges are for you and your customers and it is a great way to network among all office neighbors. Here you can choose to sit in a smaller lounge group or in a larger context with more movement and more spontaneous meetings.
N
For meetings and conversations
N
Booking via reception or Internet
Read More
With us are meeting and conference hours. We offer rooms in different sizes, from the larger meeting to the smaller room. You also have the opportunity to book meeting and conference rooms at our other offices. Booking is easy through the reception or via the Internet. If you want help with conference service, we can also arrange it. Our meeting and conference rooms are equipped for different purposes; some with TV and the possibility of video conferencing, others with whiteboard and some with comfortable armchairs for conversations.
Read More
We believe in events and happy events. We are happy to offer breakfasts, after work, guest lectures and parties. In the spring we hold a big spring party for all our offices where you and your customers are warmly welcomed. In the autumn we organize an autumn party and as Christmas approaches it is obviously time for Christmas party. Perfect for both mood and networking!
N
Invite customers to vernissage
N
Hangings several times a year
N
Paintings and sculptures
Read More
We have had an ongoing art exhibition for more than 10 years. With dedicated artists we have created an environment with paintings and sculptures that touch, amaze and inspire. The art is replaced several times per year and in conjunction with that, you, along with your customers, friends and family, are welcome at the venue.
We are located in Stockholm's most strategic locations
Stockholm is growing. Anyone who still thinks that everything happens in Stockholm city has to think about it. Sure, there is the pulse here but much of the new business is found all over Stockholm. We have chosen to meet the companies in four places.
A central center of town, a stone's throw from Stureplan. The other three just outside Stockholm's tolls. One at the Globe on the south side, one at Alviks Strand west and one in the center of Solna Centrum north of town. All easily accessible by communications and car.
The office held an ongoing art exhibition where art is changed quarterly. In connection with that, we also offer varnishing for you and your customers. For the sake of the community, and for a positive networking, autumn, Christmas and spring parties are also offered. We also offer shared breakfasts and events such as AW and mingle.